SANSOUCI 2013-2014 cruise season is officially open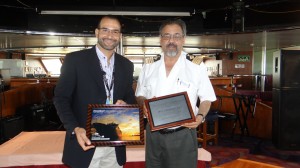 The arrival of Ocean Dream Cruise Co. Ltd. and six other cruise lines to the Port of Santo Domingo – San Souci Ports officially kick-started the beginning of the 2013-2014 cruise season. The city of Santo Domingo is expected to double its cruise ship passenger traffic this year.
Luxury liners to make a debut at the Port of Santo Domingo include: Ocean Dream Cruise Co. Ltd.; Aida Bella; Balmoral; MSC Musica ; Explorer and Asuka, a subsidiary of Peace Boat; Aida Cruise Line; Fred Olsen Lines; MSC Cruise Line; Smester at Sea; and, Azuka Japan Cruises.
Likewise, Engineer Jaime Castillo, Sans Souci Ports Executive Director, revealed that starting this November MSC Cruise Line would incorporate the MSC Musica into its Schedule; this large capacity cruiser would allow for an increment in cruise ship traffic, and increase the number of departures from the Port of Santo Domingo.
"In order to improve a cruise passenger's experience on land, we are focusing in promoting the best of what Santo Domingo has to offer through a completely novel offering of over 20 specialized tours. Our portfolio of products is perhaps the most comprehensive in the Caribbean.", added the port executive. He cited Trikke City Tour, Shopping Experience (Experiencia de Compras), Taino Trail, Aqua Mundo and Parque de Delfines as part of the entertainment options.
Castillo cited the recent efforts to revitalize the Colonial City, the new culinary and recreational offerings that are being developed in this historic urban city, strengthening the tourist experience of those visiting Santo Domingo as a cruise ship destination.
Upon the arrival of the Ocean Dream, the first cruise ship of the season, the traditional exchange of plaques took place with the participation of Sotirios Papacharisiou,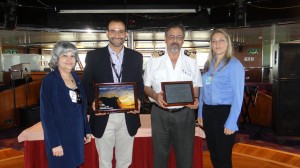 captain of the ship; Jaime Castillo and Sharon Mei, San Souci Ports executives and Luis Sanchez and Maria Teresa Baliño, Maritima Dominicana. This ceremony is carried out when a vessel reaches port for the first time.
The Ocean Dream is a Japanese ship which formally reached Sansouci Terminal on September 9 with over 840 visitors on board of all ages and of Japanese nationality. Seven of the passengers were survivors of the bombing of Hiroshima.