MSC Musica cruise begins operating in Sansouci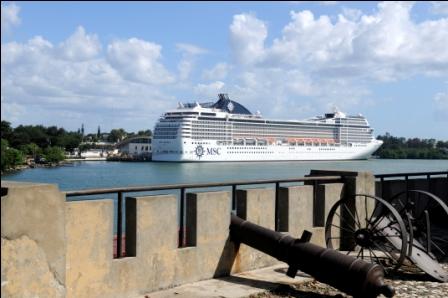 With the maiden call to Sansouci of the MSC Musica, the cruise line Mediterranean Shipping Company (MSC) will  have the capacity to bring the largest amount of cruise passengers per call registered in the this cruise destination along with being also the vessel of greater length that has visited Port of Santo Domingo.
By doing this, the MSC Cruise Line will be expanding its operations in the country reflecting an increase of a 41% of the amount of calls that this line makes at  Sansouci – Port of Santo Domingo.
Embarking and disembarking from Santo Domingo, both Dominicans and foreigners will have the pleasure to enjoy, MSC Musica which is available for the local market with American visa or Schengen departing from Sansouci Terminal.
This cruise departs from Sansouci every Saturday with route to La Romana, San Martin, Martinique, Guadeloupe, Antigua, Tortola and the British Virgin Islands.
The traditional Plaque & Key exchange protocol was took place and was attended by key executives and tourism authorities, cruises, wholesale agencies, whom made a courtesy inspection of the vessel.
As part of the event, Sans Souci Ports thanked the efforts done by the government authorities, such as the Ministry of Tourism, Tourism Police, AMET, National Police and Municipal Police, the municipalities from Santo Domingo, National District City Council, Navy and the Dominican Port Authority, among others.
Jaime Castillo, Executive Director of Sans Souci Ports, expressed that as a result of being a partial homeport, the city of Santo Domingo rebounds as a cruise destination in the region.
Castillo stated that "The relationship between MSC Cruises and Santo Domingo grows stronger through the arrival of this ship as well as the consolidation of MSC as a strong player in the Caribbean."
The MSC Musica will have provision of local agricultural products, as well as exclusive tours hosted for all cruise guests vising Santo Domingo. "Santo Domingo as a cruise destination has the most complete and diverse schedule of excursions and activities throughout the Caribbean" remarks Castillo.